Ordering a flute involves selection of: (see order form also)
Keys
The key determines the size and base price of your flute.
The most popular keys are G minor (the most popular), B minor and F sharp minor.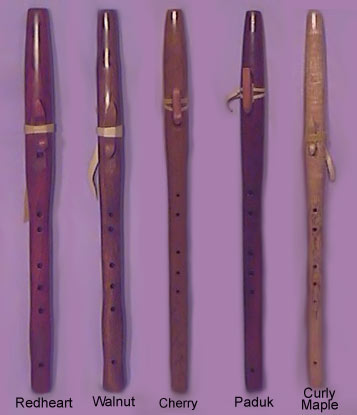 A minor, Medium Flute - $185
B minor, High Flute - $165
D minor, High Flute - $145
F minor, Low Flute - $225
F sharp minor, Low Flute - $195
G minor, Low Flute - $195
(Other keys made to order.
Please ask for a quote.)
Click Here to listen
to each tone
(uses flash player)
Pitches
High - more treble, shorter flute

Medium

Low - more bass, longer flute
Wood types
Standard wood types are
Redheart

Walnut

Cherry

Paduk

Curly Maple
Other wood types are occasionally available. Please inquire.
Finishes
By default, all flutes are fine finished with 3 coats of Lacquer.
You can order a silky hand-rubbed finish for an additional $20.
Etchings (optional)
Standard etchings (leaves and vines) $15 per flute
Other etchings available by quote.
Dealer Pricing
Dealer inquiries are welcome (3 or more flutes minimum order).
Call Bruce at 719-256-5663 or e-mail flutemanbb@gmail.com