| | |
| --- | --- |
| Bruce's flutes are featured in the MGM movie "Windtalkers" starring Nicolas Cage and Christian Slater. | |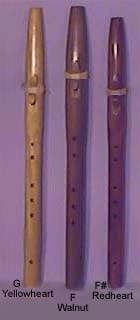 I make Plains Indian style flutes in a choice of keys and hardwoods. These 5-hole minor key flutes are based on a pentatonic scale. I take great care in tuning each flute to a level of exceptional tonal quality, in an approximately 70 degree workshop with low humidity.
I do make soft wood flutes such as cedar and soft maple, but I like to use carefully chosen hardwoods most often. The hardwoods impart a brightness and clear, clean clarity to the tone with more volume and a clearer full octave range of notes.
Minor keys also add a mellow, mournful, haunting quality to the sound, which is so much a part of Native American flute music.
I make my hardwood flutes from solid wood, painstakingly bored out. No glues are used ! The flutes are finished with a clear lacquer gloss, which adds protection from the elements, and brings out the natural beauty of the wood. I also offer a hand-rubbed finish on request. See details on order page.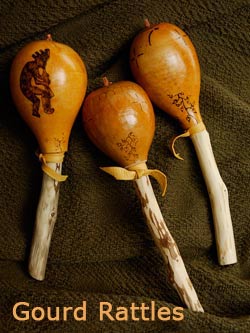 I see my flutes as tools to meditate with, and a way to communicate with Spirit. Each flute or rattle I make is smudged with sage and sweetgrass smoke before and after its transformation.
Every flute is guaranteed for workmanship and quality of tone. Any problem is no problem. My reputation depends on your happiness. My livelihood depends on your word of mouth. I hope everyone who owns my flutes enjoys the peace their music can bring.
I also offer flute lessons. Please feel free to contact me.
Bruce Becker